Individual transformer houses
and buildings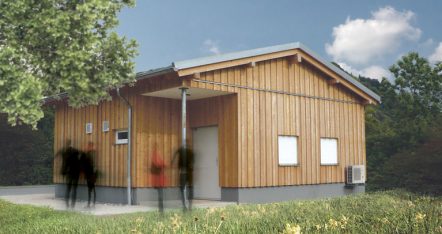 Individual transformer houses
and buildings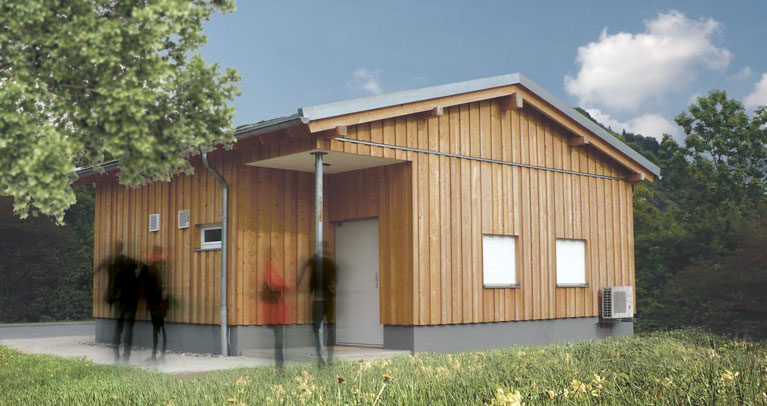 Your transformer house tailor-made for your requirements.
Ugly concrete cubes are a thing of the past: SCHEIDT shows how much more beautiful things can be! We provide a prefabricated C35/45 reinforced concrete building in element construction Can be used for almost all sizes in single-floor or multi-floor construction. Choose the shape and color, with individual options.
Both on the facade – with pebble plaster, friction-effect plaster or clinkered – as well as the roof: A pitch, saddle or hipped roof? Or maybe a thatched roof? Or … Even demanding architectural requirements can be planned and fulfilled by means of modern CAD technology. You have so much freedom in the design of your concrete transformer house … because dimensions and geometries are virtually unlimited.
The individual elements for the transformer houses are factory-made by us according to customer requirements and assembled on-site at the construction site. For the feedthrough of cables and pipes, sealing systems of different manufacturers are available. As with the walk-in stations, you can have a raised floor or a concrete floor – with corresponding recesses for the cable feed. Now you can switch to the future by transformer house or building with SCHEIDT.
Advantages of SCHEIDT transformer houses<br />
and buildings
Prefabricated reinforced concrete buildings
Individual projects, short construction period
Produced in element construction
Pre-installed, tested, safe
Wide variety of facade material and roof shapes
Adaptable to environment or landscape
Further information